WFTO-Europe staff currently include:
Francesca Giubilo, WFTO-Europe Coordinator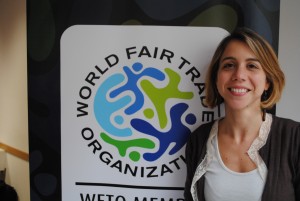 My name is Francesca Giubilo and from October 2013 I am the Coordinator of the Brussels office of this great Fair Trade network. In addition to my academic background in Political Science and International Relations, I had the opportunity to learn more about cooperation and development issues thanks to my professional experience in Europe and particularly in Africa. Starting from a volunteer experience in Kenya for a small NGO, I then followed my passion and curiosity for the region by working in Johannesburg and in a Northern rural area of Benin for one year. While the former was linked to the elaboration of a macroeconomic analysis of an emerging market, the latter was focused on design, elaboration and implementation of development projects in collaboration of local people, such as a group of women entrepreneurs.
Once back in Europe I mainly worked on humanitarian issues with Medicins Sans frontiers and Medicins du Monde. By doing that, I always wanted to tackle the roots of the unfairness and injustice I used to deal with on a daily basis. In this sense working at the European network on debt and development (Eurodad) was very inspiring to help me connect the dots and go in-depth in analysing where aid money goes and what a smart procurement is.
Fair Trade was then the logical consequence. I am flattered to join this huge network and I am excited to take part in this fight towards a fair and better world, where all people no matter where they are and who they are can live in dignity. I know that big changes cannot come overnight but I am convinced that little by little all together we can make it!
Contact: coordination@wfto-europe.org
Vanessa Comand,  Membership and Monitoring & Communication Intern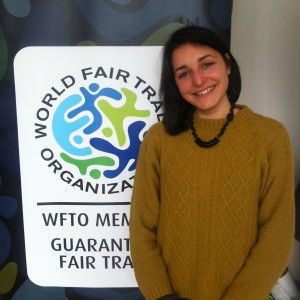 My name is Vanessa Comand, I am from Italy and I am really passionate about fair trade and sustainable consumption!  After my Bachelor's studies in Political Science in Trieste (Italy), I moved to Toulon (France) to enroll my Master Degree in International Fair Trade and Development, at present the only one in France. At my university we were not only dealing with fair trade related topics – like development or environmental economics –  but we also organized an event aiming at raising awareness among students about responsible consumption under Christmas time.
In parallel to my studies I had the opportunity to take a more active role in the local fair trade association – Var Equitable – as well as in a national fair trade movement – Fair[e] un monde equitable. This experiences gave me a good understanding of the fair trade movement, in France in particular.
I am really excited about my internship at WFTO-Europe as it represents a great opportunity to join a world-wide network of engaged structures for a fairer world!
Contacts : membership@wfto-europe.org, communication@wfto-europe.org