Are you interested in Fair Trade and want to have a fruitful professional experience? Join us as a trainee or a volunteer! WFTO-Europe will help you improve your knowledge, making sure you get the most out of it!
Professional internship at The World Fair Trade Organization Europe (WFTO-Europe)
For the period from mid-January 2017 to the mid-July 2017 we are looking for interns who are interested in doing an internship in one of the two internship areas we offer in our office in Brussels: Communication and Membership & Monitoring, and Project Management and Fundraising.
Internship in Communication and Membership & Monitoring:
As an intern at WFTO-Europe in Communication and Membership & Monitoring you will be responsible for the following tasks:
Communication: help develop our internal and external communication strategy, including our social networks and our newsletter.
Membership & Monitoring: assist in the screening of WFTO's members' monitoring reports as well as managing the European membership database.
Web Design: Help update the content of our website and include new features.
Internship in Project Management and Fundraising:
As an intern at WFTO-Europe in Project Management and Fundraising you will be responsible for the following tasks:
Campaign and Events: contribute to the planning and implementation of specific campaigns and the organisation of events, such as the World Fair Trade Day and others.
Fundraising and Project Management: support our fundraising strategy and project activities, including narrative and financial reporting.
Administration: assist with the daily business, accounting, human resource management, databases, documentation and updates.
Interested In Applying?
We strongly encourage applications from candidates who can perform different tasks across the areas mentioned.
The working language is English, but knowledge of other European languages is also highly valued. Please note that all our current opportunities are unpaid.
Candidates required to complete a training period as part of their academic degree, those with scholarships (such as: Erasmus Student Mobility for Work Placement, Leonardo da Vinci, PLOTEUS, or others), and those who can commit for a period of 6 months are preferred.
If you are interested, please send your CV and a 1-page Cover Letter in English explaining why you would like to work with us and what your contribution could be to administration[at]wfto-europe.org by the 31st of October 2016. Please indicate your availability and preferences regarding start/ending dates and length of stay.
WFTO-Europe does not discriminate on the basis of age, gender, race, religion, sexual orientation or national origin.
Please note that we are, however, not responsible for checking whether you comply with visa requirements to enter the European Union. If you are a non-EU resident, you will need to offer proof of this when applying.
Should you have any questions, please direct them to administration[at]wfto-europe.org
Follow us on Facebook, Twitter and LinkedIn!
Volunteer
Even a few hours per week (on a regular basis) can make a difference for Fair Trade!
If you are interested in volunteering (working on specific areas such as fundraising, projects or communication), send your CV and a 1-page Cover Letter in English to administration[at]wfto-europe.org.
Volunteers are welcome at any time !
If you think you have other useful skills for WFTO-Europe, please do not hesitate to contact us via email at administration[at]wfto-europe.org.
Previous interns
Stefano Carulli
Intern in Brussels, July 2016 – January 2017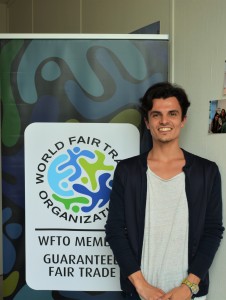 My experience as an intern at WFTO-Europe was truly rewarding.
Being part of a small team and working together on a day-to-day basis allowed me to explore a variety of different tasks: from managing a network of almost 90 European Fair Trade organizations to developing several communication strategies so as to raise awareness about the Fair Trade Principles.
However, what I liked the most was the approach of this office to its interns: I never felt disregarded by my team and my opinion was valued and always appreciated. The feedback received from my coordinator was extremely constructive and the synergy between the three of us gave me the chance to complete my tasks in autonomy and with enthusiasm.
If what you are looking for is a rewarding but the same time demanding experience in an international environment where you can develop both professionally as well as a person, then I would highly recommend an internship here at WFTO-Europe.
I am definitely going to miss working here!
Christine Adelmann
Intern in Brussels, July 2015 – January 2016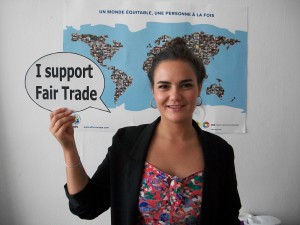 "The internship at the WFTO-Europe offered just so many opportunities!
I achieved a deeper understanding about the Fair Trade Movement in general, the role of WFTO within it as well as the specific system which illustrates the heart of WFTO's approach. The tasks that I had to conduct on a daily basis were divers and exciting, especially due to the close contact with the members, and within 6 month I could not even count one boring day.
Furthermore, thanks to the possibility to attend EU events of personal interest in addition to the inputs due to the cooperation with the FTAO, I was able to gain insights into the European Union, its structure and work.
I enjoyed learning so many new things and improving and consolidating the skills I arrived with."
Read the testimonials of our previous interns here.