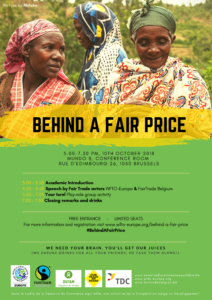 On the occasion of the Belgian Fair Trade week and with the support of the Belgian Development Agency, WFTO-Europe jointly with Fairtrade Belgium and in partnership with FTAO and Oxfam Magasins du Monde organizes an evening debate on Fair Trade and fair prices.
Another passive and boring lecture? Not at all! We would like it to be as much interactive as possible! A large session will be dedicated to a group activity where you'll have the chance to actively participate and take your brilliant ideas out of your brain.
The entrance is free but please note that we would need you to register as limited seats are available. The deadline to register is Monday the 8th October.
When : 10th October from 17-19.30PM
Where: Conference Room, Mundo B, Rue d'Edimbourg 26, 1050 Brussels
The event is open to students from all universities.
---
Here is the draft programme. Very soon we will upload the detailed version :
5.00 – 5.25 Academic introduction
5.25 – 5.45 Speech by Fair Trade actors WFTO-Europe & FairTrade Belgium
5.45 – 7.05 Your turn! Play-role group activity
7.05 – 7.30 Closing remarks and drinks
---
Any questions? Please feel free to contact administration[at]wfto-europe.org